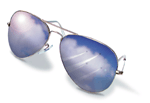 Singing. Satire. Subtext. All at Mach 3! If you see only one musical comedy about mounting a mega-musical based on the movie Top Gun, make it Top Gun! The Musical. You'll laugh. You'll hum. You'll believe a jet can fly!
For anyone who's ever cringed through Cats, felt the need for speed, or wondered "who thought that would be a good idea?", comes this new satirical musical. Writer Billy Palmer is about to crash and burn. His musical adaptation of Top Gun is going off the rails and he really needs a hit ... especially after the debacle of Apocalypse Wow!
Instead, he's saddled with a quarrelling cast, a shady ex-Navy SEAL producer, and a bit of bad luck. Now if only everyone would stop singing!
Back Home after 10 Years!
TG!TM will touch down in Toronto, Canada again this summer! A new production from Lower Ossington Theatre, the run is scheduled for June 8–29. Hurry up and get your tickets now, before TG!TM flies into the sunset again!